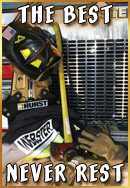 Click Here For Recruitment Information



Webster Fire Department at Community Arts Day
By NEJFD Executive Director Steven C. Small
April 23, 2012
On Saturday April 21, members of the Webster Volunteer Fire Department participated in the annual Community Arts Day. The well attended event was held at the Webster Schroeder High School from 0900-1600 Hrs. The event was attended by thousands of people which presented a great opportunity to interact with the public and provide fire prevention/safety materials. Webster Firefighters participating included Bill and Michelle Burgess, Elayn and Dave Schoff, Brett Carroll, Mike Russo, Aaron King, Tyler Bishop, John Smith and Zach Rulli.
Webster Fire Police Officer and Part Time Ventriloquist Mike Russo.

John Smith (Left) and Dave Schoff

Firefighter Tyler Bishop Getting Some Assistance with His Helmet

Firefighter Elayn Schoff Giving a Temporary Tattoo

Firefighter Aaron King Drawing a Crowd

Firefighter Aaron King Drawing a Crowd

Firefighter Tyler Bishop

Always Popular!!
Web Counters
Website Visitors
Since
May 5, 2008

Visitors Today
May 21, 2013

NEJFD
Total Calls to Date
2013
883
2012
2733
2011
2639
2010
2485
2009
2544
Webster Fire Dept.
2013 Responses
Jan
74
Feb
74
Mar
75
Apr
66
May
0
Jun
0
Jul
0
Aug
0
Sep
0
Oct
0
Nov
0
Dec
0
Total
289
Webster Fire Dept.
Past Stats
2012
946
2011
963
2010
873
2009
938
Union Hill 2013
NEJFD Responses
Fire
Amb.
Jan
9
157
Feb
14
131
Mar
14
135
Apr
7
127
May
0
0
Jun
0
0
Jul
0
0
Aug
0
0
Sep
0
0
Oct
0
0
Nov
0
0
Dec
0
0
Total
44
550