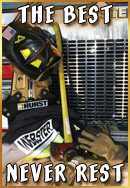 Click Here For Recruitment Information



Next Board of Fire Commissioners Meeting: Thursday, June 20th, 7 PM, Enderlin Station
Webster's Bravest To The Feline Rescue!

MAY 17 - Story Submitted By Diane Moorman-White:

Here's a story with a very happy ending involving Webster's finest!

On Monday afternoon 5/13, Kitty, our next-door neighbor's cat, was chased high up a tree in our backyard by our two standard poodles, Onyx and Jet.

The Webster Animal Control Officer was called and we all agreed that in time Kitty would eventually find his way down the tree, especially ... (Full Story & Photos)

Rescue Complete!

Union Hill FD – Two Working Fires in Two Days

MAY 07 - The Union Hill Fire Department has been kept very busy over the past two days. On Sunday, May 5th, Union Hill and Webster were dispatched to a Lakeside Road address in Ontario for a reported barn fire. Units arrived to find that a brush fire had extended into the barn and the barn was well involved. Quick actions by the first responding units made a rapid stop on the fire.

On Monday, May 6th, ... (Full Story & Photos)

Airborne Vehicle Lands on Holt Road

MAY 03 - On May 1st, at approximately 8:48 PM, the Webster Volunteer Fire Department was dispatched to the area of State Route 104 and Holt Road for the report of a motor vehicle accident with possible injuries. Information was relayed that the vehicle was traveling on State Route 104, left the expressway airborne, and landed on Holt Road below.

1C10 arrived on-scene and confirmed that he had a one vehicle ... (Full Story & Photos)

Motorcycles Are Everywhere - Look Twice - Save a Life

APRIL 30 - Spring has arrived and motorcycles are everywhere. Please drive safely and remember to "Look Twice". It just may save a life. Please review some tips for motorists in regards to motorcycle safety.

QUICK TIPS: Ten Things All Car & Truck Drivers Should Know About Motorcycles

1. There are a lot more cars and trucks than motorcycles on the road, and some drivers don't "recognize" a motorcycle; ... (Full Story & Photos)


Former Webster Volunteer Firefighter Becomes Baltimore Lawman

MARCH 31 - Rewind to June 2008. Twenty year old Webster resident Nicholas Guercio joins the Webster Volunteer Fire Department as a probationary firefighter. Over the next three and a half years firefighter Guercio serves his community with distinction and becomes one of Webster's most active volunteers. In a quest to achieve a lifelong goal of becoming a police officer, firefighter Guercio seeks law enforcement ... (Full Story & Photos)

Officer Nick Guercio - City of Baltimore Police Department



Structure Fire on South Estate Drive

MARCH 11 - Courtesy of the Democratic and Chronicle:

Residents safely escaped a Sunday morning fire that ripped through a four-unit townhouse in Webster.

The fire was reported before 4 a.m. at 25 South Estate Drive, located in a neighborhood off Shoecraft Road.

Chief Craig Akins of the Webster Fire Department said that nobody was injured in the fire. He said that two of the four units in the building ... (Full Story & Photos)

Courtesy of the D&C


Courtesy of the Democrat and Chronicle

Second Fire in a Week Strikes Huntington Meadow Stables

FEBRUARY 25 - Courtesy of the Democrat & Chronicle

A small barn was destroyed in a fire at Huntington Meadow Stables in Penfield Monday.

This was the second fire at the stables since last Thursday when another barn located in the front of the property was destroyed by a fire.

"I can't believe it, two fires in a week and a half. I don't get it," said Dick Bouchard, owner, who said in 34 years he's never ... (Full Story & Photos)

Web Counters
Website Visitors
Since
May 5, 2008

Visitors Today
May 21, 2013

NEJFD
Total Calls to Date
2013
883
2012
2733
2011
2639
2010
2485
2009
2544
Webster Fire Dept.
2013 Responses
Jan
74
Feb
74
Mar
75
Apr
66
May
0
Jun
0
Jul
0
Aug
0
Sep
0
Oct
0
Nov
0
Dec
0
Total
289
Webster Fire Dept.
Past Stats
2012
946
2011
963
2010
873
2009
938
Union Hill 2013
NEJFD Responses
Fire
Amb.
Jan
9
157
Feb
14
131
Mar
14
135
Apr
7
127
May
0
0
Jun
0
0
Jul
0
0
Aug
0
0
Sep
0
0
Oct
0
0
Nov
0
0
Dec
0
0
Total
44
550