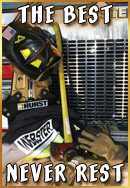 Click Here For Recruitment Information



Next Board of Fire Commissioners Mtg: December 30th, 2:30 PM, Enderlin Station, 35 South Ave
Webster Firefighters Run the Webster Turkey Trot

NEJFD Executive Director Steven C. Small, November 29

On Thanksgiving Day several Webster Volunteer firefighters ran the Webster Turkey Trot.......In full turnout gear! The firefighters participating included Chief Craig Akins, Kirk Klass, Steve Blunt, Steve Kozak, Captain Brad Ball, Dave Herrle, John Watson, Jackie Ingrassio, Sean Darcy, Brett Carroll and Alex Smith. This is the second time in as many years that the Webster Volunteer Fire Department ... (Full Story & Photos)


Members of the Webster Volunteer Fire Department


From Left: Captain Jerry Fedele, FF Steven Blunt, FF Mike Ricci, Captain Brad Ball, Chief Craig Akins, FF Jackie Ingrassio, FF Steve Kozak, FF Kirk Klass

Webster Firefighters Post Best Overall Time in "Fight for Air Climb"

NEJFD Executive Director Steven C. Small, November 18

On Saturday, November 16th, eight Webster Volunteer Firefighters participated in the second annual Fight for Air Climb to raise money for the American Lung Association. The firefighters climbed 20 flights of stairs in full turnout gear including an air pack. The Webster group proudly posted the fastest overall time among more than 15 area fire departments. Congratulations and a big thank you for ... (Full Story & Photos)


Truck 100 Has Left The Building!

NEJFD Executive Director Steven C. Small, November 05

On October 22, 2013, Truck 100 left the North East Joint Fire District/Webster Volunteer Fire Department for the last time. Truck 100 is a 1989 E-One 95' ladder truck and it has been a part of our family since its birth. Truck 100 has served this community and its firefighters well for more than two decades. However over the past several years, due to its age, Truck 100 has experienced numerous ... (Full Story & Photos)


Godspeed Truck 100!


Halloween Trick or Treat Trail Stops at the Webster Fire Department

NEJFD Executive Director Steven C. Small, November 05

On Saturday, October 26th, several members of the Webster Volunteer Fire Department were on hand at the Enderlin Station on South Avenue to hand out candy to "trick or treaters". The children and their parents were participating in the Village of Webster's annual Halloween trick or treat trail. Many children stopped by the fire station to visit and receive a treat. Thank you to the firefighters ... (Full Story & Photos)


Webster Chiefs Traveling to National Fallen Firefighters Memorial

NEJFD Executive Director Steven C. Small, October 04

Webster Fire Chief Craig W. Akins and Assistant Chief Chris Smith will be traveling to the National Fallen Firefighters Memorial this weekend. The memorial service is held at the National Fallen Firefighters Memorial in Emmitsburg Maryland. The Chiefs will be joining a large contingent of firefighters from around the nation in honoring 81 fallen firefighters who lost their lives in the line of duty ... (Full Story & Photos)


Courtesy of Democrat and Chronicle

Webster Playground Honors Heroes

NEJFD Executive Director Steven C. Small, September 16

Story Courtesy of Democrat and Chronicle:

Normally, it would be bad form for children to be dangling off a jungle gym in firefighter's helmets while adults are trying to hold a news conference nearby.

Sunday at the Webster Recreation Center, the offense was forgivable. The grown-ups were giving speeches about the town's new First Responders Playground, and the kids were simply breaking it in.

They ... (Full Story & Photos)


Webster Firefighters Help Build Home Destroyed by Hurricane Sandy

NEJFD Executive Director Steven C. Small, September 03

Story Courtesy of YNN Rochester:

Some Webster firefighters are building a new home on Long Island that was destroyed by Hurricane Sandy in October. The effort is part of the New York Says Thank You Foundation and its effort to rebuild communities. Three firefighters from Webster are volunteering to build the new home in Massapequa, for an FDNY firefighter.

Webster Fire Department officers Steve ... (Full Story & Photos)


newyorksaysthankyou.org


Firefighter Appreciation Night at Spencer Speedway

NEJFD Executive Director Steven C. Small, August 23

On Friday night, August 9th, the Webster Fire Department participated in the Spencer Speedway "Firefighter Appreciation Night". Webster firefighters gave apparatus tours and rides around the racetrack with lights and sirens to all the children in attendance. A great time was had by all and the Webster Fire Department thanks Spencer Speedway for the invitation and thanks the public for their support. ... (Full Story & Photos)

Web Counters
Website Visitors
Since
May 5, 2008

Visitors Today
Dec 12, 2013

NEJFD
Total Calls to Date
2013
2297
2012
2733
2011
2639
2010
2485
2009
2544
Webster Fire Dept.
2013 Responses
Jan
74
Feb
74
Mar
75
Apr
66
May
78
Jun
64
Jul
77
Aug
84
Sep
69
Oct
71
Nov
0
Dec
0
Total
732
Webster Fire Dept.
Past Stats
2012
946
2011
963
2010
873
2009
938
Union Hill 2013
NEJFD Responses
Fire
Amb.
Jan
9
157
Feb
14
131
Mar
14
135
Apr
7
127
May
13
145
Jun
1
154
Jul
14
168
Aug
4
163
Sep
6
153
Oct
4
146
Nov
0
0
Dec
0
0
Total
86
1479