NOTICE:
Next Board of Fire Commissioners Mtg: August 16th, 2017 7:00 PM @ 35 South Avenue, Enderlin Station


Live Scanner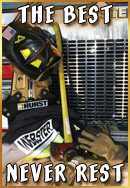 Click Here For Recruitment Information





Courtesy 13 WHAM

Man Loses His Life When Lawn Tractor Goes Over Lakeside Cliff

NEJFD Executive Director Steven C. Small, June 18

Democrat and Chronicle:

A 79-year-old Webster homeowner died Sunday after he and his riding lawnmower plunged over a steep 30-foot bluff on the Lake Ontario shoreline.

The man, whose name was not released, was discovered at the bottom of the bluff by family members who returned home about 6 p.m. They had last seen the man in late afternoon as he cut the grass, said Webster Police Lt. Dennis Kohlmeier.
The ... (Full Story & Photos)


Webster Fire Department Supports Webster Police 1000 Club's Annual Charity Golf Tournament

NEJFD Executive Director Steven C. Small, June 12

On Thursday, June 8th, the Webster Police 1000 Club held its Annual Charity Golf Tournament at the Webster Golf Club. The Webster Volunteer Fire Department continues to support this very worthy annual fundraising event and several Webster firefighters played in the tournament. This year's beneficiary was the JACK Foundation and the Webster Police 1000 Club was able to raise more than $10,000 for ... (Full Story & Photos)



Webster Police Officer and Webster Volunteer Firefighter Dave Herrle takes a quick break at the hole cosponsored by the Webster Volunteer Fire Department. Photo provided by Chief Smith.


Our Brother and Dear Friend - Frank Dorfner

NEJFD Executive Director Steven C. Small, June 08

It is with profound sadness that we announce the passing of our brother firefighter and dear friend, Frank Dorfner.

Obituary:

Dorfner, Frank G. Jr

Williamson/Webster: Age 82. 6/6/2017. Predeceased by parents, Helen and Frank Sr., brother, Robert. Survived by loving wife Linda (Reisinger); children, Sue (Joe) Trottier, Dianne, John (Nancy) and Ron Eaggleston; 12 grandchildren and 2 great grandchildren; ... (Full Story & Photos)


The Rekindled Spirit

NEJFD Executive Director Steven C. Small, June 07

Our own Father William (Bill) Michatek was featured in the latest edition of The Volunteer Firefighter, the official publication of the Firemen's Association of the State of New York. The article, "First Responders: One Happy Family" is attached to this news story.

Chaplain Bill Michatek is the retired pastor of Holy Trinity Church in Webster, Monroe County, and now lives in Wolcott, Wayne County, ... (Full Story & Photos)


Our Brother and Dear Friend – William (Bill) Netzman

NEJFD Executive Director Steven C. Small, June 05

It is with profound sadness that we announce the passing of our brother firefighter and dear friend, William (Bill) Netzman.

FORT MYERS, FL: Bill passed away May 2, 2017 at the age of 89 after a brief illness. Bill was born in Webster, NY on February 20, 1928, the son of James H. and Clara Netzman. Bill was predeceased by his daughter Jan. He is survived by his wife, Susan (Goodno), daughter, Jill ... (Full Story & Photos)

Web Counters
Website Visitors
Since
May 5, 2008

Visitors Today
Jul 20, 2017

Webster Fire Dept. 2017 Responses
Jan
69
Feb
66
Mar
223
Apr
72
May
90
Jun
89
Jul
Aug
Sep
Oct
Nov
Dec
Total
609
Webster Fire Dept. Past Stats
2016
1013
2015
941
2014
847
2013
886
2012
946
2011
963
2010
873